BIO & BIO-MIMETIC ENG.
BIO & BIO-MIMETIC ENG.
Bio-mimetic Engineering includes the area in which one obtains certain ideas from nature and applies them to engineering problems. The concept itself is quite old, but vigorous development and effort have been made very recently.

We are conducting the following researches in this area:
Reduction of the skin friction & form drag based on overall body configurations
Aerodynamics of a golf ball with grooves
: To investigate the effect of the carapace structure on the drag reduction and develop new golf ball based on its drag reduction mechanism (KR Patent 10-0803528-0000).

Effects of longitudinal ridges on the hydrodynamic performance

Twisting of the stem (Daffodil)
: To investigate the effect of twisting structure of the daffodil stem on the drag reduction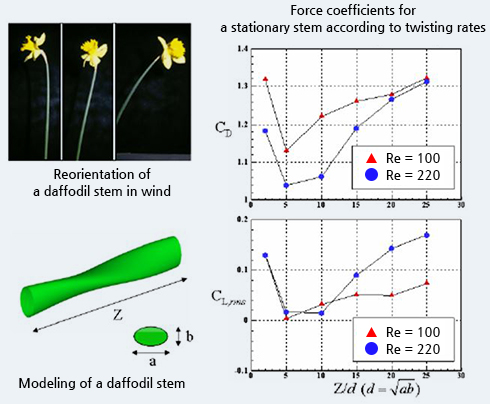 Longitudinal grooves (Scallop)
: To certify the possibility and draw the mechanism of form drag reduction using longitudinal grooves of the scallop shell.